Like I mentioned in my Paradise Killer review, I am equally as in love with video games as I am mystery fiction. So, naturally, I'm always looking out for those which combine my two loves: mystery video games! Unfortunately, very few games seek out to take the spirit of the Golden Age and encapsulate it faithfully in video games (and even less succeed…). If I were to hedge my bets, however, for the country to have the most consistently successful efforts it would be without a doubt the nation of Japan. The Golden Age is just a distant memory for us, but in Japan it's one of the competing modern standards for how to write crime fiction! It's in their literature, it's on their television, in their anime, and their comic books. And, naturally, it is just as well in their video games. What would be a better jumping-off point for members of the Golden Age Detection community than the perennial favorite Japanese mystery video game?
Ace Attorney originally released only in Japan back in 2001 onto the Nintendo GameBoy Advance system as Gyakuten Saiban (逆転裁判). The franchise got two sequels, Justice for All and Trials and Tribulations, both of which never left Japan until four years later when the original trilogy saw its American release on the Nintendo DS handheld system. Three more sequels, two Sherlock Holmes crossovers, a crossover with the series' Sherlockian mystery co-star Professor Layton, two spin-offs featuring a major antagonist of the franchise, a full anime adaptation, and a few novellas later, the series seems to have been finally laid to rest. However, with remakes for modern-day consoles and a data leak suggesting a new game is right around the corner, it's never been a better time for fans of the Golden Age mystery to get into Ace Attorney.
In Phoenix Wright: Ace Attorney, players take the role of a novice defense attorney whose clients have all been falsely accused of murder. In order to prove their innocence, you'll navigate Phoenix Wright through crime scenes, investigating clues and shaking down witnesses. You then take to court, where you use your evidence to spot lies in witness testimony that slowly unfurl until you not only prove your client's innocence… you also find the real killer in the process!
The game is split into five episodes, almost all of which feature three investigation segments and three trial segments that are played intermittently. Investigations are presented in a traditional point-n-click interface, where the player talks with witnesses, asks them about clues and finds evidence at the crime scene. After any given investigation, the player goes to trial, where the prosecutor will summon witnesses to share what they saw on the day of the crime. During these testimonies, witnesses are all hell-bent on seeing your client put behind bars, and they will lie or stand by their mistakes as fact! In order to combat this, the player has to find statements that contradict the facts of the case as you know them, and present evidence to expose the lies! The player will then be asked a series of questions where they have to explain what the contradiction means, and why the mistake was made. Eventually, by swapping between investigating clues, finding contradictions and explaining your reasoning, you'll find the real killer and prove your client innocent!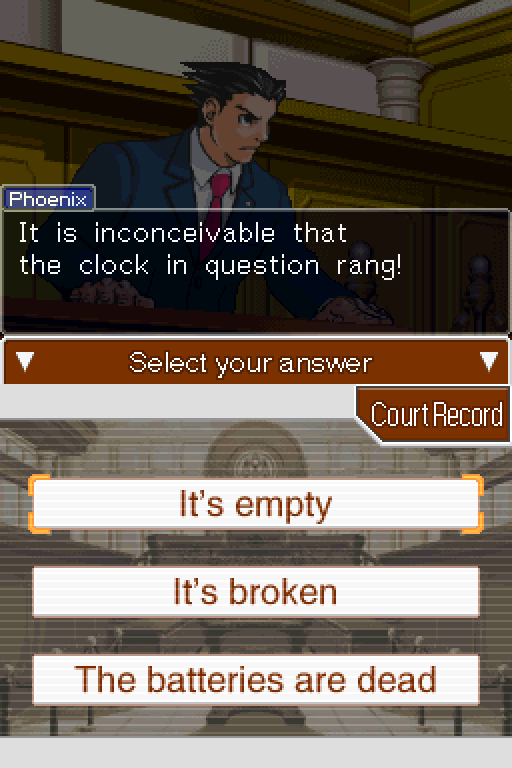 The insightful reader will probably notice that no less than half of the sentences in the previous paragraph ended with an exclamation point, which I think is possibly the best way to sum up the energy of Phoenix Wright: Ace Attorney. What's important to consider is that Phoenix Wright: Ace Attorney is a mystery game for teenagers, with an anime aesthetic, so naturally the series does not turn on calm, gentlemanly debates in a cozy English parlor. All of the debates are framed in the most melodramatic, almost warlike way the writers could manage. The series's trademark is for the characters to shout out "OBJECTION!" whenever they disagree with something the other side says. Along with this, characters will go on long monologues about why the other side is so pathetic in their attempts to worm their way to victory, and there are frequent, but admittedly witty, jabs and pop-culture references thrown every which way. The legal battles are portrayed like genuine battles between good and evil! The series is comical in a way that doesn't quite veer into parody, able to avoid being self-serious and have fun while still writing dialogue that can resonate with you emotionally and engaging in genuine storytelling.
Ace Attorney unabashedly taking liberties in its presentation of our world, the legal system, and criminal investigation, is something that heavily inspires the way the series approaches GAD-adjacent mysteries. The world is presented as ours in almost nothing but name; the idea takes priority over the authenticity, and in a way that's strangely refreshing. Anachronistic technology, such as flip-phones well into the years smartphones existed and weirdly archaic security systems, and absurd laws, like cased needing to be solved within three days of their first time, are just some of the ways Ace Attorney's franchise builds tension and creates mysteries in a way no "authentic to reality" mystery would ever get away with.
Furthermore, as always something I deeply admire about Japanese GAD-like mystery writing is that even when, aesthetically, the series is clearly dramatized for the sake of a younger audience, the mysteries still stand on their own as genuine, mature puzzle plots without falling into the hyper-simplification trap some western teen mysteries fall victim to. The same level of cluing, and misdirection, and hyper-convoluted killer plots will be found in Ace Attorney as you'd find in any good GAD or honkaku novel. Though, perhaps well out of the scale of this review, I will note that this is the first of a dozen game franchise, and as such the formula is not as refined as it would later go on to be. Nearly every case but one is presented in some form of the locked room mystery of the "Judas Window" variety, where your client is the only person to be in a perfectly sealed environment with the victim, including in a boat in the middle of an ocean, an elevator during a power outage, and the only person on the other side of a "security gate". The game openly acknowledges that all of these cases use a remarkably similar idea in their solutions, and the knowledgeable mystery reader will probably clue into the tricks very quickly, and this is definitely a bit less of a problem in later games. However, I would not say that this is, strictly speaking, a fault of this game. What makes Ace Attorney still engaging is that the player, more than almost any other mystery-style game, is actively involved in the solving of the case. The "contradictions" — the lies that lead Phoenix to the solution — are all still super clever, and sometimes can still even surprise the reader who spotted the solution ages ago. The game very personally involves the player with the moment-to-moment lines of reasoning, and unlike many other games, it fills in as few dots as humanly possible for the player, which forces even the "ahead of the game" player to remain keen and vigilant. In this way, Ace Attorney almost perfectly walks the line between a "whodunit" and a "howcatchem", where the game's hyper-fixation on the reasoning at every point in time during a case can leave the player just as engaged in finding out how Phoenix nails the killer, whether or not the player already clued into the solution.
Ace Attorney is a bit of a hard sell, I feel. It is… decidedly GAD-adjacent, especially in the way that the series approaches misdirection and almost unrealistically convoluted crimes. However, it is a video game on predominantly children's consoles, in an anime aesthetic, with a majorly comical, teeny-bop presentation. While the mysteries themselves are maturely conceived and presented, the game itself is probably a bit much on the energetic and cartoonish side for many older fans of Golden Age mysteries who don't have as much tolerance for the anime melodrama and unnecessarily loud debates. Ace Attorney is, admittedly, the franchise that originally convinced me to head down the Golden Age puzzle plot rabbit hole, and at first I was a bit put-off by how much I had to adjust to a different level of energy when I began to explore books from nearly a century ago, and I imagine the same kind of adjustment would have to be done going the other way. What I can promise, though, is that anyone who thinks the style of the game is pleasant or, at worst, tolerable will find here a nugget of unmissable golden Japanese crime writing, and the franchise only goes on to get better and more polished with later iterations.